Warkus
Tracing the Heritage of John Godfried Warkus
From Europe to Asia
the warkus name
In the early years of the 19th Century a mid-aged Prussian leaving the Cuirassiers to travel the world settles on the beautiful island of Ceylon. His name was John Godfried WARKUS.
This site hopes to trace the family history from John Godfried Warkus early years, his children and their descendants and also share some of the beauty of the island that is now known as Sri Lanka.
Research on the heritage of
John Godfried WARKUS has shown that there exists many spelling variations both of his personal name and that of the family surname. This is not uncommon and in fact quite usual during the 1800´s and early part of the 1900´s.
The splendour of Sri Lanka - a vacation paradise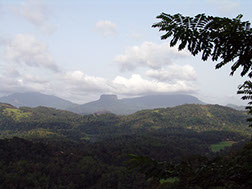 Bible rock
Kegalle District in central Sri Lanka
This site hopes to document as much information about the family history of John Godfried WARKUS and his descendants on the beautiful island of Sri Lanka. Information found here will as far as possible be backed by historically documented references though in most cases will be "stories" passed on within the family and others.
This site will also promote the beauty of the beautiful island of Sri Lanka that John Godfried Warkus chose as his new home.
Descendants of John Godfried Warkus are encouraged to send family history, stories, anecdotes, photos or any other information that they wish to share on this site through the contact page.